We are a New Zealand log frame design and construction company. 14 years of design innovation in this field has kept us at the front of an emerging low carbon architectural future.


Our focus on affordable, eco-sustainable log frame dwellings has lead us to design unique buildings with extraordinary strength and durability.
These beautiful and simple dwellings have honest values and create healthier outcomes for humanity.
Our latest design, the
Eco Outpost
has taken the Tehuia EON to a whole new level.
Our World is Continuously Changing
Change is a constant. We innovate or disappear, as have countless civilizations before us.
Within just 150 years our society has evolved from an 'agricultural age' to the 'industrial age' and now we live in the 'digital age'.
Our living space is no longer 'location tied' to our factory or office work place. The conventional European home, a 3 bedroom 2 car garage made with light weight building materials may have once been suitable. Not only has it become too expensive for young families wanting the security of their home, this style of construction and its huge mortgage does nothing for quality of life. And we question if will endure climate change.
New Zealand is made up of large islands that sit at the bottom of the Pacific Ocean and is ideally suited to the designing and building of architecture that suits the new climatic reality. This is what we have done.
We grow excellent timber here and timber is the number 1 sustainable building material known to mankind. We have designed and built buildings that suit our topography, our extreme weather, our budget and are made from our sustainable forests.
Sustainability is also about energy and where we get it. The digital age enables
a simple organic life on land where you 'wind and solar collect' your own energy needs and grow your own food. This can create much better outcomes for familes. The Internet allows for childrens higher education and work opportunities from rural and wilderness settings a reality.
An off grid lifestyle is now more desired and celebrated in mainstream media because it solves so many problems created by our modern cities. A lite environmental footprint, a simple sustainable life, a low mortgage and a quality of life supported by the natural world in which we live.
Our passion for living close to the natural world has evolved our own unique log frame architecture. The concept of a natural log frame built from sustainable forest trees which can be bolted together and expanded as the family grows is the product of our life and is a reality.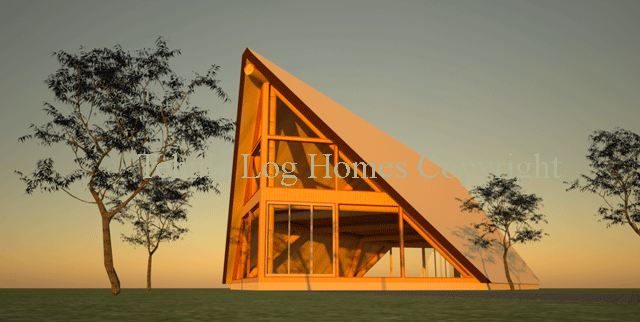 Te Huia Log Homes Product